How to Turn Your Thick Hiking Boots Into Minimalist Snow Boots
On my last couple of ski trips the one major inconvenience I had was that my off-the-slope footwear was a pair of thick hiking boots. With all of the snow and ice everywhere a pair of warm, waterproofed, and well-treaded shoes were absolutely necessary.
However, my usual minimalist shoes just wouldn't cut it. If I tried to wear my casual leather shoes my feet would either get damp from the snow, or I would slip all over the ice. So, I went with the boots.
It's amazing to me how thoroughly your body can get use to wearing minimalist shoes all of the time. Typically, I would have no more than a few millimeters between my heel and the ground. With these thick hiking boots though, not only were my heels elevated above my toes by an inch, but there was almost another additional inch of rubber sole between my feet and the ground.
All of that extra cushioning puts your back and legs out of alignment, and with myself being accustomed to having a natural posture, it wasn't long before my knees and back started to ache. Oh, the irony of thickly cushioned shoes causing knee pain.
As soon as I moved to Colorado, I knew that I needed some kind of minimalist solution. With the winters here, it could start snowing randomly at any time, even with the sun shining. I didn't want to spend a hundred dollars on Feelmax Kuuvas, so I decided to try and resole my own hiking boots. Here is how I did it…
Stuff you'll need:
pair of warm, water-resistant boots.
sharpened screwdriver
wire cutters (optional)
square of Vibram Cherry rubber tread
Shoe Goo
Sharpie marker
duct tape
Step 1: Remove the original tread from a pair of water-resistant winter boots.
A sharpened screw driver and some wire cutters should be able to do the job if the sole is glued to the shoe upper. Chances are if they are a cheap pair of boots from Wal-Mart, this will be the case.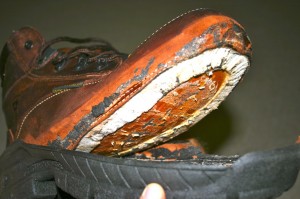 Use the screwdriver to wedge between the sole and the shoe and pry it away, ripping it off from the glue sealant. Take your time and work your way around the shoe, using the wire cutters to trim some of the sole to get more leverage.
It took me about an hour to do this for both shoes. Be warned, it might require a bit of strength to finally pull off the sole if you are impatient. But, don't be too rough, you don't want to damage the bottom of the shoe which the sole is glued too.
Once you get the soles off, you can really see how much comes between your feet and the ground. It's pretty ridiculous to behold how much cushioning is there, while knowing how little benefit it actually provides.
Step 2: Trace the outline of the shoe uppers onto the square of Vibram Cherry and cut it out.
I got my Vibram Cherry rubber through InvisibleShoe.com, where I had previously bought a DIY huaraches kit. There are other companies from which you can buy the tread, mainly shoe repair stores, but I found InvisibleShoe's price to be excellent, and the large-sized square of rubber was all I needed.
Reader "Phocion" has some excellent advise in the comment section about washing the rubber square before doing any gluing. Good idea!
A black sharpie marker will still be visible on the rubber, and should do the job. You'll want to leave a little bit of room as you trace the outline over the rubber square. When it comes time to cut out the pattern and actually glue it to the bottom of the upper, any mistakes in the size of the new tread will be irreversible. It will be easier to just trim off extra tread later.
Also, be sure to trace your outline over the correct side of the rubber square. One side will have the Cherry tread which you will most definitely want to have interfacing with the ground.
Step 3: Glue the new tread to the shoe with Shoe Goo adhesive, and secure it tightly while setting.
One tube of Shoe Goo should be sufficient for the task, using a little bit less than half the tube for each shoe. Apply it liberally all along the bottom of the shoe uppers along the outside edge and in the middle. If you feel that there is too much and some might seep out along the edges – don't worry, that is perfect. You can shape the excess to help seal the edges.
If you are unfamiliar with Shoe Goo, feel free to take your time properly lining up and placing the new tread onto the glue. Unlike super glue you have plenty of time before it dries.
Just to be safe though, try practicing with a small dab of Shoe Goo and some of the left over pieces of rubber. Once you are satisfied with how the new sole is lined up, you'll need to secure it in place very tightly. I prefer to use duct tape, but if you are concerned it will damage the finish of your boots feel free to use something else.
Once the shoes are all bound up, leave them some place dry to set for at least 24 hours. It probably won't take that long, but it never hurts to be cautious.
Step 4: Remove the bindings and finish sealing the outside edges of the sole.
Once you are satisfied that the sole is firmly attached to the upper parts of your shoes, you'll want to use the remaining amount of Shoe Goo to seal the outside edges. If you're going to be trekking around in the snow or mud, having your shoes be water tight will be important.
Liberally apply glue along the edge between the sole and the upper and smear it in place so that no gaps are left behind. I used an alum wrench to smear the glue into place, but you can probably use just about anything from a pencil to a small stick.
That's it, your done! Wait another 24 hours before trying out your new winter boots just to make sure the glue is firmly set and dried.
I was really happy with how my boots turned out. We had one of our random Denver snow storms recently, and I took the opportunity to go for a long walk around the neighborhood.
The snow had started to pile up, but my feet were warm and absolutely dry. Finally, I have some boots I can wear around in the snow, and it didn't put much of a dent in my bank account either.
If you enjoyed this article, get email updates (it's free).
Here are some related blog posts which you should also read:
Eat Well, For Less

Over 40 pages of advice, dedicated to helping you save money on healthy food.