Shoe Review – VIVOBAREFOOT Evo – Part 2
This is the second part of my review of the "Evo", a type of performance running shoe sold by VIVOBAREFOOT. Be sure to read the first part of this review. You can also find more product evaluations at my review page.
---
It's been a while since I've worn any kind of shoes on a regular basis that actually looked like shoes. Normally, I'm either barefoot inside my apartment, or wearing thin sandals while adventuring around my neighborhood, or in a mix of Vibram Five Fingers or moccasins when off running around.
The Evo is the first real running shoe I've used in probably two years.
However, my use of the phrase "real running shoe" should not leave you to believe that it is anything similar to the normal offerings by companies like Nike or Reebook. The Evo is still vastly more minimalist than even the Nike Free and in my opinion combines the most significant benefits of shoes like VFF's with the more conventional design of standard shoes.
Basic Minimalist Shoe Test
The first and most basic test I perform to generally determine how minimalist a pair of shoes are is to try and bend them in half, from heel to toe. The more rigid and unyielding a shoe is, the less capability your feet will have to react to the ground as you are moving. Contrary to what many podiatrists will tell you, the motion-control paradigm in modern running shoes has been pretty unsuccessful at helping anybody.
The Evo is incredibly flexible, you can bend this shoe just about any way you want. The outer layer is still pretty durable though, which is nice. The Evo does have a mesh type out layer covering most of the top, similar in some ways to that found on many Vibram Five Finger models. The mesh is combined with a more significant fabric covering though, and does a better job of protecting the top of your foot than many other minimalist shoes I've worn.
The Insides
As is typical of VIVOBAREFOOT shoes, the inside sole liner is removable. This is useful for a couple different reasons. For one, if you desire to have an even thinner layer between your feet and the ground, removing the sole liner will subtract at least a few millimeters from the shoe's cushioning. Further, if you need to wash or clean up your shoes, it's a little easier to wash away any funk if you can take out the liner.
If you have any experience with Vibram Five Fingers, then you know about the kind of smell that bacteria can produce. However, I really only see this as a problem if you don't wear socks with your shoes. In VFF's this is pretty much the norm, with Evo's it's more up to your own personal preference.
I've seen that some people complain about their heels being rubbed raw when they don't wear socks with their Evo's. I tried this out for a little bit and found that I didn't particularly like wearing them without socks. Again, I think this comes down to personal preference. But, if you are trying to maximize minimalist sensation, I don't think socks will really detract from the experience.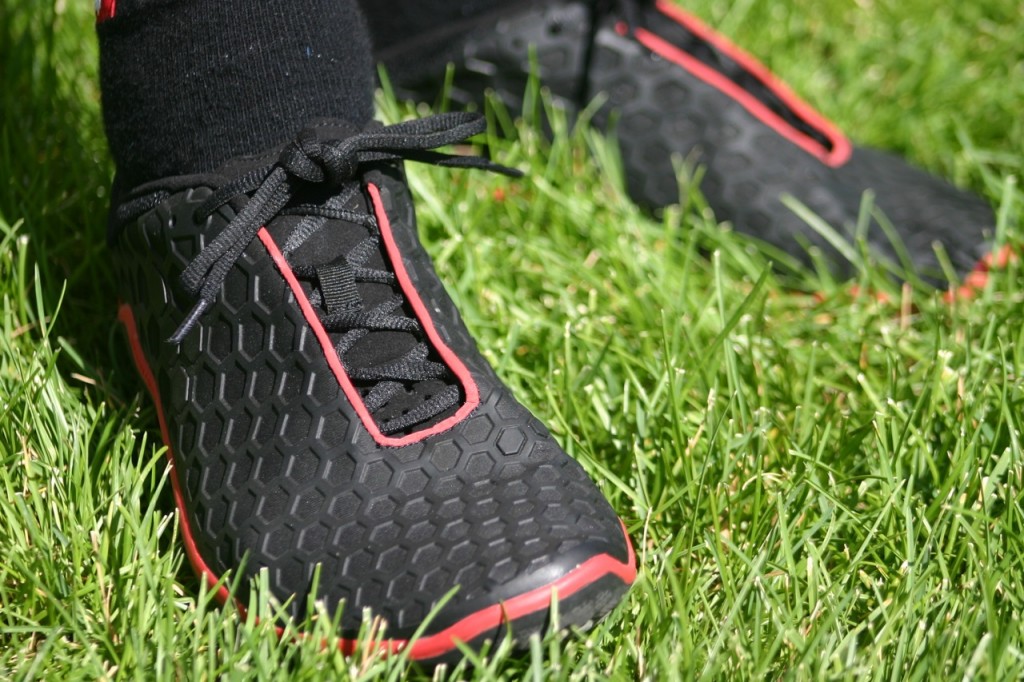 Traction
All VIVOBAREFOOT shoes have their trademark honeycomb shaped traction pattern. For the most part, I think it does a pretty decent job of keeping you on your feet. However, my experience with the Evo leads me to classify it more as a performance running shoe for prepared surfaces like road or concrete, or on dry and clear trails.
After a particularly strong afternoon rain shower last week, I was heading down a grass berm near my apartment and the traction completely gave out on me. The ground was a little moist from the ran, and I almost fell on my ass. Apparently, the tread on the Evo's just couldn't handle loose and wet dirt on a downhill slope. I haven't had a problem with other more "offroad style" shoes on this type of terrain, so it may be a limitation of this shoe in particular.
I don't think this necessarily makes the Evo's deficient in traction, rather it makes them more suited to road type surfaces. VIVOBAREFOOT certainly has shoes which are more suited to trail running and offroad surfaces, so if you're into that you'll know where you need to spend your money.
Extending from that line of thought, I don't really see the Evo's as a casual or every day wear kind of shoe. I see them more as a piece of equipment that you put on when you are serious about going out and running hard. Similar to how people might wear Under Armour compression gear when they race, I see the Evo's as performance running equipment.
Toe Room
One of the slight concerns I had before I started trying out the Evo's was the issue of space inside the toe box. This is never an issue with sandals or huaraches, and with Vibram Five Finger's individual toe pockets you don't really need to worry about your digits getting cramped.
The Evo has a front that comes to more of a point than some of the other shoes I've worked with, but I didn't have any issues with cramped toes. The outside edge of the shoe extends outward more than most conventional running shoes, so much so that the shoes aren't symmetrical. Because of this design, I believe that they'll provide ample room for toe spread during strides. Some people who have switched to barefoot running may have much meatier feet and wider toe spread than others, so results may vary.
I do have to say, the upper mesh material surrounding the top of the foot is extremely flexible, so this will accommodate your toes quite well if the shoe is fitting a little more on the tight side of the continuum.
Running in Evo's
I really enjoyed running in these shoes. I didn't feel like the minimalist experience was altered significantly in a bad way by wearing them, despite being more substantial than my running sandals. For people who just hate having stuff touch the insides of their toes, like with thong type huaraches or Vibram Five Fingers, then the Evo's will be a great alternative.
I felt fast during my sprint intervals and I forgot on occasion that I was suppose to be thinking about my footwear while going on my daily runs. They just kind of meld to your feet and don't try to get in the way of the ground like more conventional running shoes.
The mesh outer covering over the front of the foot was a nice touch as well. It's getting really hot here in Colorado right now, and the natural air conditioning for my feet was quite welcome.
Summary
Pros:
Light and flexible for superior ground sensation
Mesh outer for enhanced breathability
Removable sole liner for additional reduction in cushion
Cons:
Traction not well suited for offroad or slick surfaces
Pointed toe box may be problematic for people with wide feet
If you enjoyed this article, get email updates (it's free).
Here are some related blog posts which you should also read:
Eat Well, For Less

Over 40 pages of advice, dedicated to helping you save money on healthy food.