This infographic comes from InformationIsBeautiful.net and provides some interesting statistics on average UV exposure rates based on location and skin type, as well as the average deficiency rates for people all around the world. Understanding these factors is imperative, because vitamin D is such a critical component of maintaining human health. Having healthy vitamin D levels has been linked to not just ordinary immune system functioning but also cancer resistance.
Continue Reading

→
Good posture is important, not just for the outward appearance that you present to people around you, but also for your general health and well-being. I've written about posture before, and I highly recommend Esther Gokhale's book: 8 Steps to a Pain-Free Back. If however you want a quick run-down of many of the probable causes and solutions for bad posture, this infographic is for you.
Continue Reading

→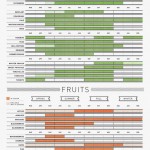 In North America, Spring has arrived for most people. Despite expecting more snow later this week, dandelions are popping up and the crab apple trees are putting out leaves. It's a great time to start planting some edible plants, but even if you don't do any gardening it's good to know when different foods are in season.
Continue Reading

→
There is a new study "proving" that red meat is the scourge of human health. The basic hypothesis goes something like this: TMAO is found in larger quantities in people who have heart disease. And TMAO levels are elevated via increased amounts of carnitine consumption through a diet full of red meat. Thus, avoid red meat, avoid TMAO, avoid heart disease. How accurate is this though? A review of critical responses help to make sense of this new information.
Continue Reading

→
There are a lot of people who think running is damaging to your overall health. Running, like any form of exercise, isn't perfect and certainly has its drawbacks. It requires you to move in only one plane of motion, it's virtually worthless for the upper body, and it doesn't build muscle strength in the traditional sense. But after nearly 15 years of competitive running and coaching hundreds of runners, it's clear that these myths simply aren't true. There are ways to structure it so you get maximum results with as little (or none) of the negative consequences. Let's debunk these myths and learn how to integrate distance running into your exercise program to better promote a healthier lifestyle.
Continue Reading

→
This infographic from Carrington College shows off some data about sunlight exposure and its affects on human biology, most notably mood and immunity. Fortifying foods with vitamin D and encouraging people to supplement is a great start, but the human body is incredibly efficient at producing this necessary hormone through sun exposure, literally thousands of IU's of it in a half hour. Concerns about skin damage can probably be mitigated through moderated exposure.
Continue Reading

→
There seems to be a growing acknowledgement in the medical and health science fields that cholesterol is more of a signal, rather than overt cause, of heart disease. Like the police officers who show up at the scene of the crime, cholesterol happens to be present at the scene of atherosclerosis. But far from being the much-maligned enemy of heart health, it might actually be part of the body's attempt to protect itself from further damage.
Continue Reading

→
Using a foam roller is a great way to help prevent acute injuries when you frequently engage in high intensity exercise, such as Crossfit. Check out this infographic for examples of various techniques to use a foam roller for myofascial release, and watch the video after it for some in-motion demonstrations. If you need a foam roller, you can get one for pretty cheap off Amazon.com by doing a search for "foam roller".
Continue Reading

→
Of particular interest, are the sections on health effects further down near the bottom of this infographic. Specifically, "lack of sleep lowers testosterone levels an average of 10% – 15%." This makes sense, as human growth hormone (HGH) is primarily produced during sleep, with the largest and most predictable peak occurring about an hour after [...]
Continue Reading

→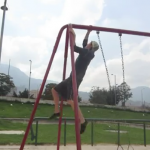 Logan has spent the past few weeks running around two massive South American cities with a video camera trying to capture the "essence" of urban movement. Read and watch his experiences, as he shows you how to live wild in the heart of an urban jungle.
Continue Reading

→
As this infographic by Altra asks, why consider footstrike? It's a very good question, and it should be the primary query on people's minds when they're thinking about going minimalist (footwear) or even barefoot. The way your feet impact the ground while running has far-reaching effects on your bones and joints all the way [...]
Continue Reading

→
This infographic comes courtesy of medicalbillingandcoding.org, and provides me with no small amount of amusement since it actually cited this blog and the Paleo Community Surveys which I've conducted.
Continue Reading

→
Eat Well, For Less

Over 40 pages of advice, dedicated to helping you save money on healthy food.